Comaiba for Cytotherapy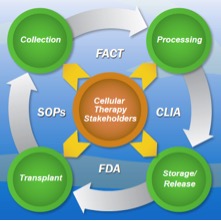 FACT Standard 6th edition is now supported
Quality and Compliance management is an ongoing challenge for cellular therapy centers. A majority of the entities that conduct or facilitate cellular transplants rely on manual, disjointed processes to manage compliance and adherence to quality standards. The need to meet requirements from FACT (Foundation for the Accreditation of Cellular Therapy), JACIE (Joint Accreditation Committee ISCT EBMT), CLIA (Clinical Laboratory Improvement Amendments), FDA, insurance and local regulatory bodies is often met through loosely structured processes, a mix of paper and fragmented electronic systems and teams of consultants. This ad-hoc, resource-intensive approach is not only highly expensive but also unsystematic and non-repeatable.
Comaiba provides a comprehensive quality and compliance management solution that is designed to meet the unique requirements of cellular therapy centers. Comaiba provides real-time monitoring and one-click compliance reporting for all stages of the cellular product lifecycle from collection, processing, storage to transplant.
Comaiba's rule libraries provide continuous monitoring for audit areas such as donor certification, acceptable end-points, sterility breaches, event tracking, clinical outcomes and adverse events. Sophisticated monitoring rules can also be setup in the system to detect excessive numbers of severe adverse events by treatment regimen. This systematic, comprehensive approach enables cellular therapy centers to transform organizational best-practices in to operational reality.